Reflex Skin DLC Packager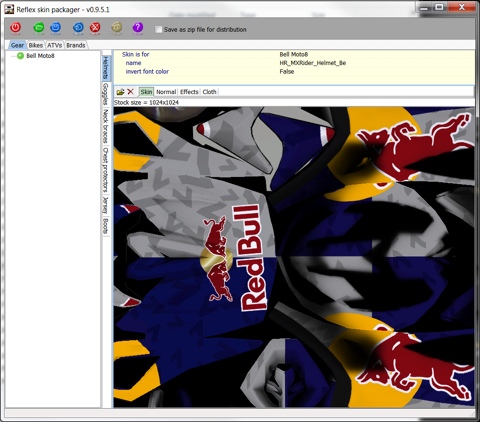 Finally it is possible to add your own skins to Reflex, [color=#FF6600]TwistedDIRT [/color]brings you the MX Reflex Skin DLC Packager which supports building you're own DLC packages for Rider gear, Bike and ATV skins.
Warning: Using this program and the DLC packages that it generates will almost certainly cause your profile to be reset at some point. To avoid this you will need to deselect any custom rider/vehicle skins from the in-game Garage before you remove or replace any DLC packages. If Reflex tries to load a skin that is no longer available to it, then the game will crash and your profile will be reset.
The packager comes with wireframes for all of the supported gear and vehicles to get you started. You can create up to 25 custom skins per DLC (for gear DLCs) with DLC010, DLC011, DLC012, DLC013 used for gear, DLC014, DLC015, DLC016 used for Mx bikes and DLC017, DLC018, DLC019 used for ATVs.
Each skin set needs at least 1 texture to be replaced before it can be saved to a DLC, that is the diffuse texture, which is always the first tab on the texture tab set and usually is labelled 'Skin' or 'Plastics'. The grey light will only turn green (which means the texture will be included in the DLC package) when this skin has been replaced. Some other textures have been included in most sets if you want to play with them but they are not needed to make a new skin set. If you have changed the textures in a skin set but not the diffuse skin, then the light turns orange to tell you that you have made changes but the skin set will not be saved to DLC.
You only need this tool if you want to create skins. It creates DLC packages that you will be able to download from sites like reflex-central.com or mxmaniacs.com and then you can install these skins by copying the unzipped download files to your \Database folder in your MXReflex install folder. Remember to de-select any custom skins before you install a new DLC packages.
You can download the packager here.
MX Reflex Skin DLC Packager v0.9.5.1
Big thanks goes to JvdL and JamieT for their tireless testing and solid feedback that made it possible to make this program. :-*
Have fun Laurie

Get more up to date info on the forums: Reflex Skin DLC Packager