This MXTables_DLC_TD_ReflexSpecial zip file contains:

MXTables_DLC_TD_ReflexSpecial.database
MXTables_DLC_TD_ReflexSpecial.package
readme.txt

These files do not replace any file in your Reflex Database folder (except for the readme if you unzip multiple DLC and include the readme.txt file).. These are new files and can be disabled by renaming the database file to *.database_disable
There is a readme in the zip that explains how to find where they go if you do not know. The simple instructions are to unzip the contents of this zip into your Reflex's "Database" folder.
This DLC unlocks the Special Series that was available on the XBox 360. It also unlocks the Geico bike skins. This DLC only contains the MX Table rows that are missing. It does not replace anything or add anything that isn't already in the game. All of these things were already in the PC version, they just weren't enabled. It is not the same as the XBox 360 DLC004 MXTable DLC.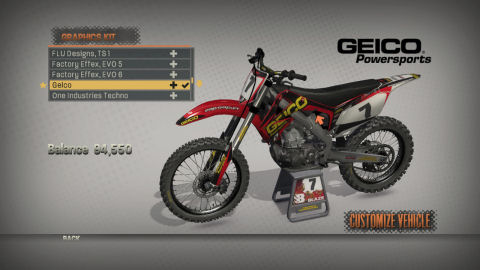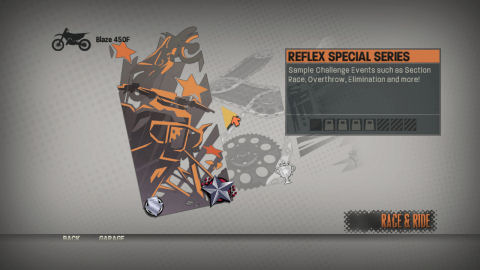 In Multiplayer, if the other riders do not have this modification they will see the THQ skin. All the internal numbers line up with the XBox 360, so if someone has added the XBox DLC004 to their game you will see their Geico skin if they have it selected.
**** Disclaimer ****

Please treat this as a beta and if in doubt disable it by deleting it or renaming the extension of the database file to something the game doesn't recognize.

There is a special consideration with this file. If you select the Geico skin and then disable this addon, you will not be able to run Reflex. Your save game will point to a skin that isn't available. Be sure to select a stock skin before disabling this DLC.
There is a quirk with Reflex and it seems to happen no matter what modifications are made. Sometimes after changing the files in the Reflex folder structure, Reflex will crash when you go to start it. At some point I will try to dig into this further, it may be a matter of deleting some cache file or something like that. If so these instructions will be updated.
It shouldn't happen each time you start Reflex, just sometimes after you have modified the folder structure.
**** Disclaimer ****

Download: MXTables_DLC_TD_ReflexSpecial.zip.